Heritage Gloucestershire Old Spot Pigs for SalePurebred UK piglets for sale:  $450.00 each.  Price includes vaccination and registration.
These piglets are green group Muriel/Gerald line, whose grandparents were imported from England in 2017, their parents are from the first litters born here in the US.  These UK purebred piglets have a CI of 1.1%. We wean at eight weeks old and they are then ready for sale.  They are friendly (socialized) and love their daily belly and back rubs. (Who wouldn't?)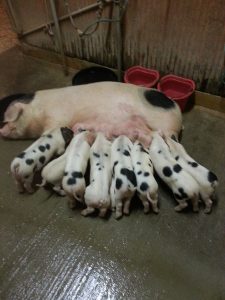 The photos posted are of a previous litter, our next litter due is February 2020 with deposits and pre orders being accepted.