Heritage Gloucestershire Old Spot Pigs for SalePurebred UK gilts for sale:  $450.00 each.  Price includes vaccination, DNA parentage testing, and registration.
These piglets are green group Muriel/Gerald line, whose parents were imported from England last summer.  These UK purebred piglets have a CI of 1.1% according to the registration certificate of one of the boars that has been sold.  They were weaned at eight weeks old on November 2, 2018 and are ready for sale.  They are friendly (socialized) and love their daily belly and back rubs. (Who wouldn't?)  The boars in this litter have been sold.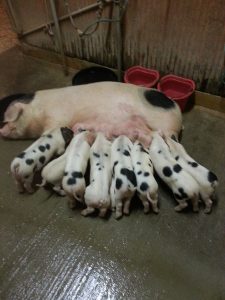 The photos below were all taken at the same time on November 4, 2018.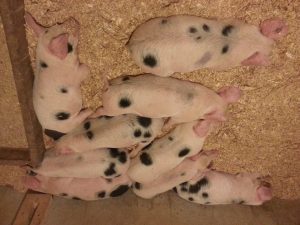 In the above photo are the nine remaining piglets in this UK purebred litter (CI of 1.1%).  The four piglets on the left of the photo, starting from the bottom, are tattooed as FCA6, FCA8, FCA3, and FCA7.  The five piglets on the right side of the photo, starting from the bottom, are: FCA5,FCAA,FCA9,FCA4,FCA1.  FCA1 is a boar and is spoken for.  The other eight piglets are all gilts.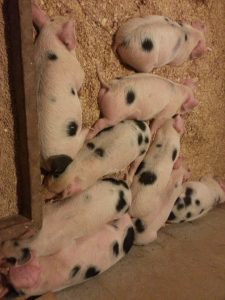 Same piglets in same sleeping positions, but the photo was taken at a different angle.