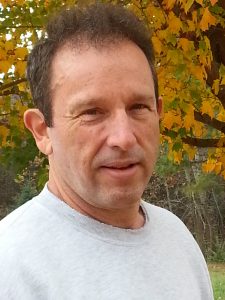 Fawn Crossing Farms lies on a ridge of land between Bridgewater and Dayton in the heart of Virginia's Shenandoah Valley.   In 2000, a 4600 sq. ft. two story bank barn was erected on the farms eleven acres and immediately became the rather elaborate home for a small flock of 20 chickens.  The keeping of honeybees ensued in 2008, initially for the pollination of fruits and vegetables.  Rouen and Muscovy ducks were added to the mix shortly thereafter.  To help keep invasive plants on the farm in check in 2015, a pair of purebred Nubian does and a wether arrived providing their pruning services. The does also providing delicious and wholesome raw milk and the ability for multiple types cheeses to be made and enjoyed. About a year later, a breeding trio of Gloucestershire Old Spot (GOS) heritage pigs was added to the menagerie.  The gentle giant pigs fit in well with the other animals and are very happy to consume the whey remaining from cheesemaking.  In 2017, two buckling's with excellent breeding lines from Tennessee joined the goat herd.   In 2018, a breeding pair of UK purebred GOS pigs arrived from Oregon (yes, pigs can fly).  These UK pigs were the first offspring from a group of GOS pigs imported in 2017 from Britain.  Fawn Crossing Farms is one of a small group of farms on the East Coast committed to breeding UK GOS purebred and UK/US GOS crosses in an effort to diversify the genetics of this ancient and endangered breed of swine.
Bill is the great grandson of a railroad engineer, the grandson of a mid-west farmer and teacher, and the son of a NASA engineer involved with the Apollo and unmanned spacecraft missions.  As an only child with an independent bent and an interest in science and biology, growing up he always had some type of pet to keep him company. In high school, he kept sheep, raised chickens, and was partly responsible for reducing the sales of Safeway's eggs in the neighborhood.  His connection to animals led him to attend college with dreams of becoming a veterinarian, graduating with a B.S. degree in animal science from the University of Maryland.
Fawn Crossing Farms is his chosen occupation leading into retirement, with a goal to produce environmentally sustainable and high quality products in a humane and ethical manner; the welfare of the animals and the local environment being the top priority. Happy and well cared for animals produce delicious, naturally-raised food that supports our land, our livelihood, and our community.  Fawn Crossing Farms is a net carbon neutral operation, utilizing wind, solar PV, solar hot water, and geothermal renewable energy technologies.
The farms purebred and American Nubian goat crosses are registered with ADGA and AGS, and our heritage Gloucestershire Old Spot pigs are registered with both GOSPBU and GOSA.  Selective breeding of registered animals helps maintain diversified animal genetics for the future and is one cornerstone of our farms philosophy.